Join us to support ICS's positive,
significant, and enduring impact on society.
The Hitotsubashi University Foundation was established as a national university entity in 2004 to help advance business-nurturing efforts, including supporting ICS. The Foundation carries out the mission of Hitotsubashi University, having inherited the mantle of iconic figures such as entrepreneur and philanthropist Eiichi Shibusawa, the "Father of Japanese Capitalism."

Tightening public finances are presenting national universities throughout Japan with an increasingly tough budgetary situation. In these circumstances, ICS is taking the initiative to secure the resources it needs to meet new challenges and to sustain its world-class academic programs, teaching, and research.

It is with this deep sense of purpose, determination, and enthusiasm for the future that we invite alumni, students, individuals, organizations, and corporations to partner with us in our endeavors by contributing financially to ICS via the Hitotsubashi University Foundation.
---
From

JPY 10,000,000

Merlin | Youming Lu | EMBA 2018




From

JPY 1,000,000

Anonymous Donor | Faculty
Singh | Shailendra Singh | MBA 2007

Vincent & Cindy | Kunshan Cai & Cindy Pai | MBA 2011

Ken | Kenichiro Yoshida | MBA 2012

From

JPY 100,000

Sherman | Sherman Abe | Faculty
Yusuke | Yusuke Sakishima | EMBA 2018

Bruce | Hirokazu Tanaka | EMBA 2020

Sachin | Sachin Sadanand | MBA 2008

Frank | Szuyu Chen | MBA 2011

Jay | Hojung Jay Kim | MBA 2011

Vivi | Nannan Wang | MBA 2011

Wilson | Wei-Yu Chen | MBA 2011
Jobee | Jose Bernardo Pendoza Pacis | MBA 2013
Khoi | Khoi Nguyen | MBA 2014
Ron | Ronnachai Klangnarong | MBA 2014

Vik | Vikrant Sharma | MBA 2015

Ken | Ken Lee | MBA 2016

Jimmy | Zongya Gao | MBA 2017

Ben | Beumseok Lee | MBA 2017

Sai | Sairam Subramani | MBA 2019

Anonymous Donor | MBA 2009

Anonymous Donor | MBA 2011

Anonymous Donor

From

JPY 50,000

Shingo | Shingo Oue | Faculty
Addy | Adnan Raza | EMBA 2020


John & Peilun | John Couke & Peilun Yang | MBA 2004




Sebas | Sebastien Brilli | MBA 2007




Aaron | Kwok Choong Lee | MBA 2007




HICSA Singapore | Hitotsubashi ICS Alumni - Singapore | MBA 2011




Tk | Taeko Hatakeyama | MBA 2013





Viki | Vivek Kovilakathu | MBA 2014

Ani | Anirudh Devulapalli | MBA 2014

Li | Wen Li | MBA 2015

Deepak | Deepak Tiwari | MBA 2016

Buruburu | Zhen Luo | MBA 2016

Maggie | Manjing Lu | MBA 2018

Yeemon | Yeemon Thant | MBA 2019

Sylvia | Junzhu Wang | MBA 2021

Anonymous Donor | Faculty
Anonymous Donor | MBA 2003
Anonymous Donor | MBA 2003
Anonymous Donor | MBA 2004
Anonymous Donor | MBA 2009
Anonymous Donor | MBA 2012
Anonymous Donor | MBA 2013
Anonymous Donor | MBA 2016
Anonymous Donor | MBA 2017
Anonymous Donor | MBA 2019

Up to

JPY 49,999

Nana | Nana Otsuki | DBA 2018
Kaz | Katsuki Sakai | EMBA 2017
Nao | Naofumi Kumabe | EMBA 2021
Miyuki | Miyuki Tani | EMBA 2021
Koji | Koji Okada | EMBA 2021
Taichi | Taichi Nomura | MBA 2004
Ian | Ian Ma | MBA 2006
Frank | Tseng Weiming | MBA 2008
Miki | Miki Ishikawa | MBA 2008
Ace | Eisuke Watanabe | MBA 2008
Tim | Tim Bates | MBA 2009
Futoshi | Futoshi Tanizaki | MBA 2014
Nemo | Vipin Sukhwal | MBA 2017
Masa | Masaya Fujimori | MBA 2018
Emma | Soyeong Yeo | MBA 2019
Piyush | Piyush Bothra | MBA 2019
Brandon | Minjae Kim | MBA 2019
Zulaa | Ariunzul Avirmed | MBA 2019

Anonymous Donor | EMBA 2017
Anonymous Donor | EMBA 2017
Anonymous Donor | EMBA 2020
Anonymous Donor | EMBA 2020
Anonymous Donor | MBA 2004
Anonymous Donor | MBA 2004
Anonymous Donor | MBA 2005
Anonymous Donor | MBA 2005
Anonymous Donor | MBA 2005
Anonymous Donor | MBA 2005
Anonymous Donor | MBA 2006
Anonymous Donor | MBA 2006
Anonymous Donor | MBA 2009
Anonymous Donor | MBA 2009
Anonymous Donor | MBA 2017
Anonymous Donor | MBA 2017
Anonymous Donor | MBA 2018
Anonymous Donor | MBA 2019

Anonymous Donor | MBA 2019
Anonymous Donor | MBA 2019
Anonymous Donor | MBA 2019
Anonymous Donor | MBA 2020
Anonymous Donor | Staff
Anonymous Donor
Acknowledgement
Donors will acknowleged by one, two, or all three institutions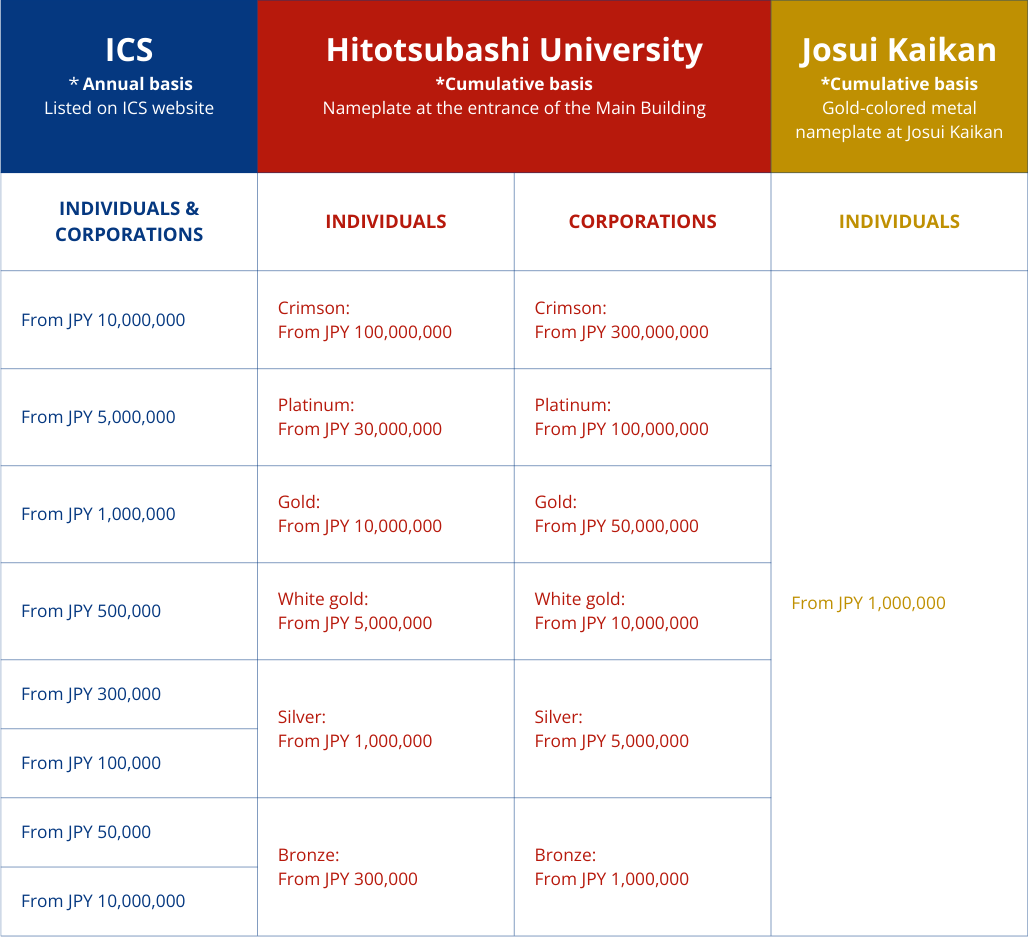 | | | | | |
| --- | --- | --- | --- | --- |
| Taku | MBA 2003 | Singh | MBA 2007 | Hsien | MBA 2009 | Taiyo | MBA 2009 | Hide | MBA 2014 |
| | | | | |
| | Khoi | MBA 2014 | Yuki | EMBA 2020 | Yasu | EMBA 2021 | Sylvia | MBA 2021 |
| | | | | |